Hi! Thanks for visiting my online school. This is a space where I can share knowledge, insights, strategies and optimism.
Having worked as a Clinical Psychologist and Family Therapist since 2002, I understand the importance of connecting with the right people to gain access to the right information. And most importantly, feeling empowered through the learning process. If you are willing to take the time to reflect, learn and grow, I will guarantee you a quality experience aimed at making you feel respected, whilst stretching you into new areas of personal development. My ultimate aim is to positively impact individuals, which then has a positive ripple effect to their relationships and the next generation in society.
As well as providing therapy to individuals and families, I have a passion for training and mentoring health professionals, so you will see a mixture of courses available in my school for the general public as well as those who work in the counselling and mental health field.
Having taught in University settings, and currently running my own training company and workshops across Australia, I appreciate the importance of quality teaching materials. So, here in my online school, you can be assured that each course will be engaging, interactive, and highly valuable.
In every course there are sections you can view for free before deciding if it is the right learning opportunity for you. Browse the catalogue and discover your learning experience today.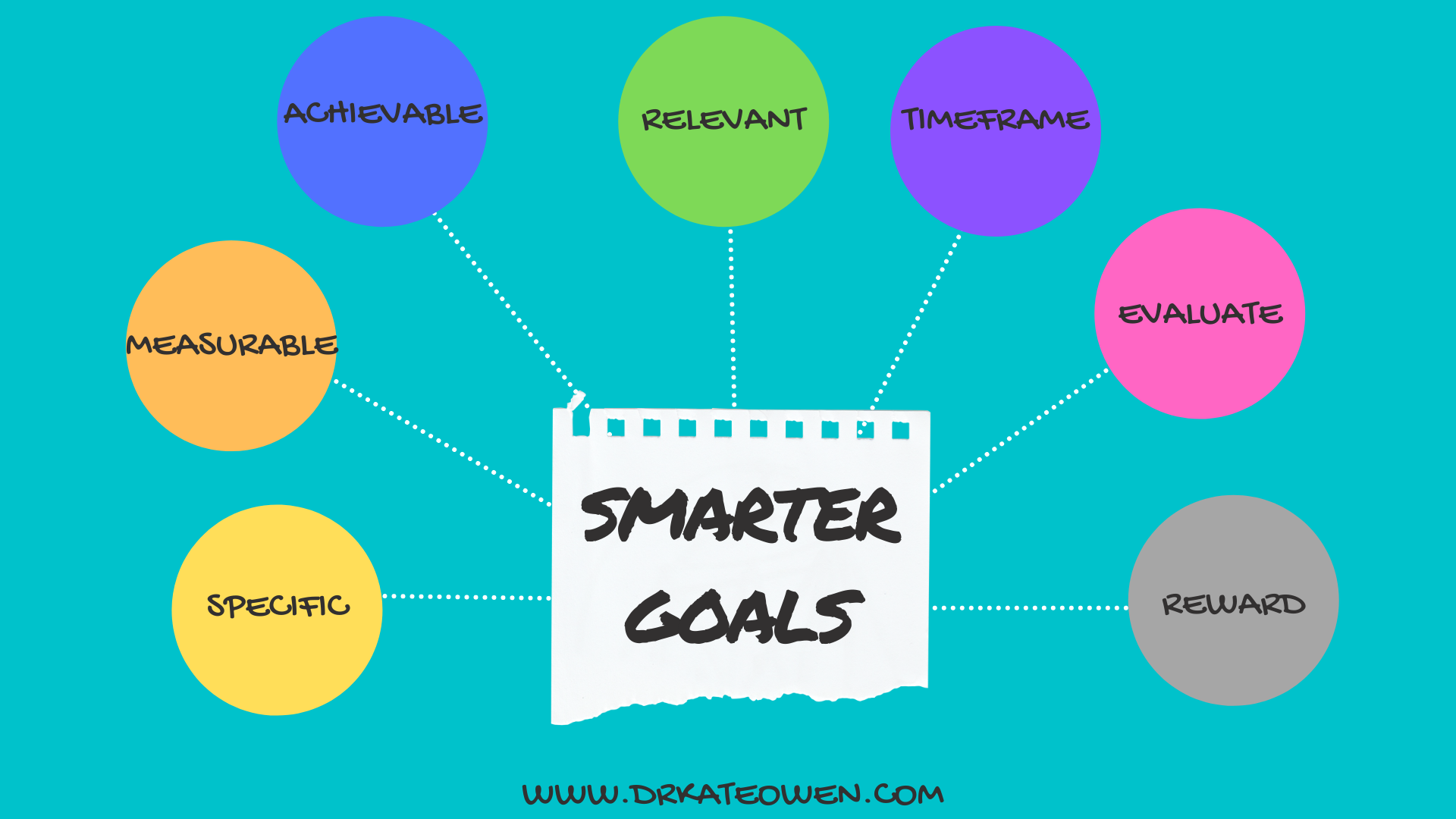 Goal Setting Guide
For You And Your Family
(FREE)
This is a free mini-course to help you and your family set and achieve your goals. You will gain access to a 37-minute webinar and handout to download.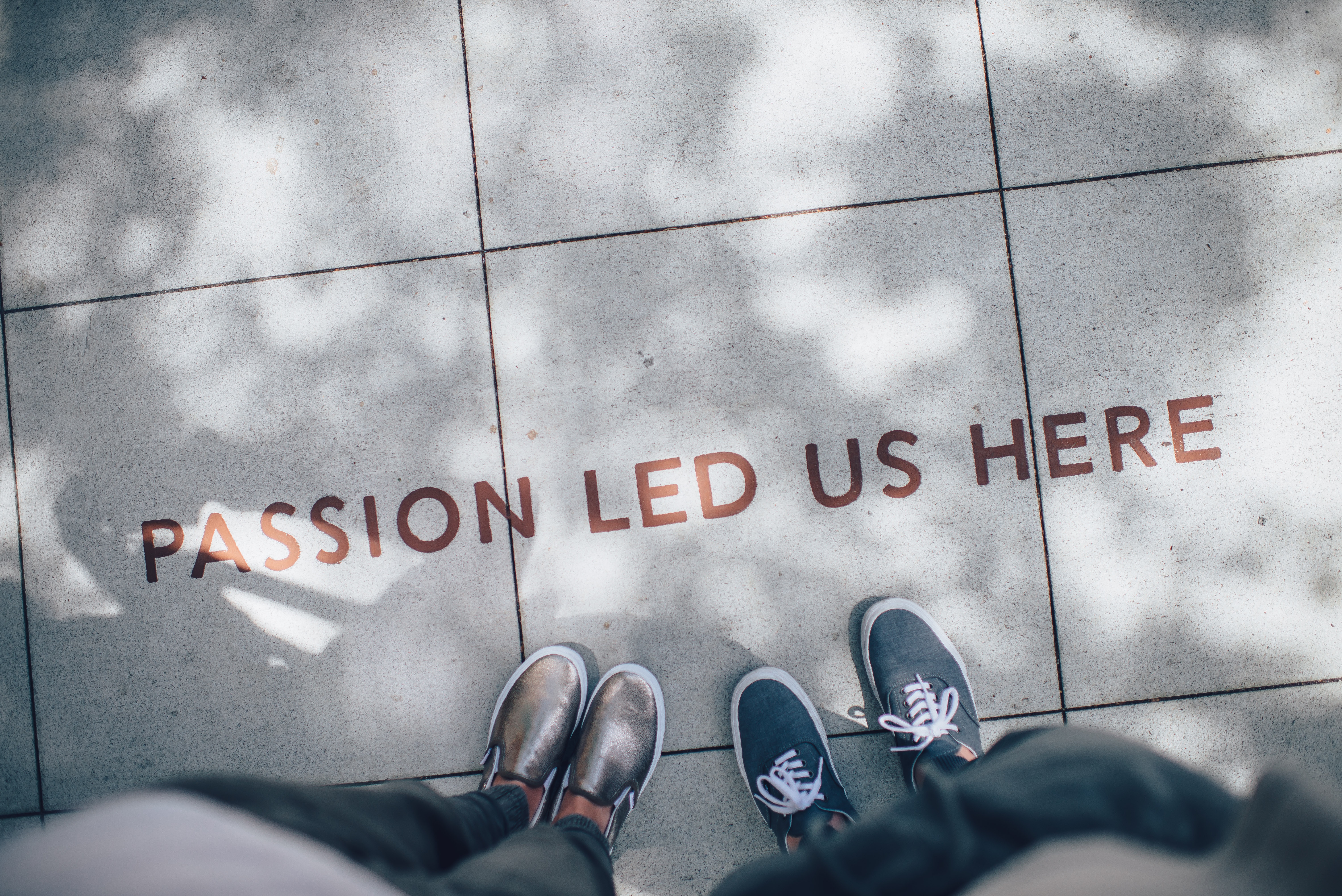 Self-Care and Protection from Burnout for Counselling and Mental Health Professionals
(FREE)
This is a free course for professionals working in the Counselling and Mental Health field with a focus on understanding Burnout and learning practical strategies for soothing the central nervous system and calming the mind.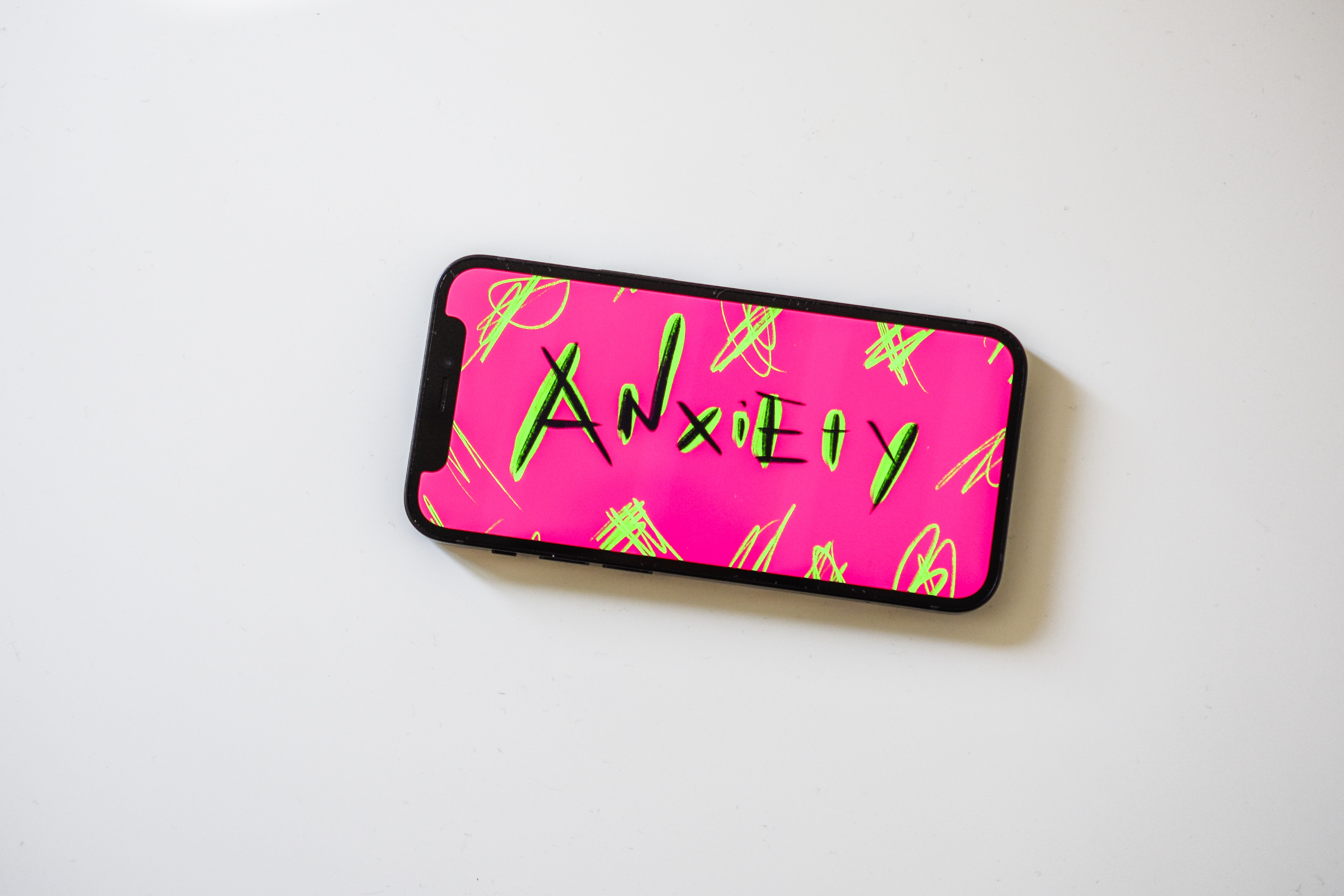 Teens & Anxiety
What is normal?
When should I worry?
($30)
Webinar Duration: 1 hour 15 minutes
Dr Kate Owen provides you with valuable information on:
What is normal adolescent development?

What does anxiety in teenagers look like?

When is anxiety a problem?

Support options to consider.

Strategies that adults can use to support teens.

Strategies to teach your teenager to manage anxiety.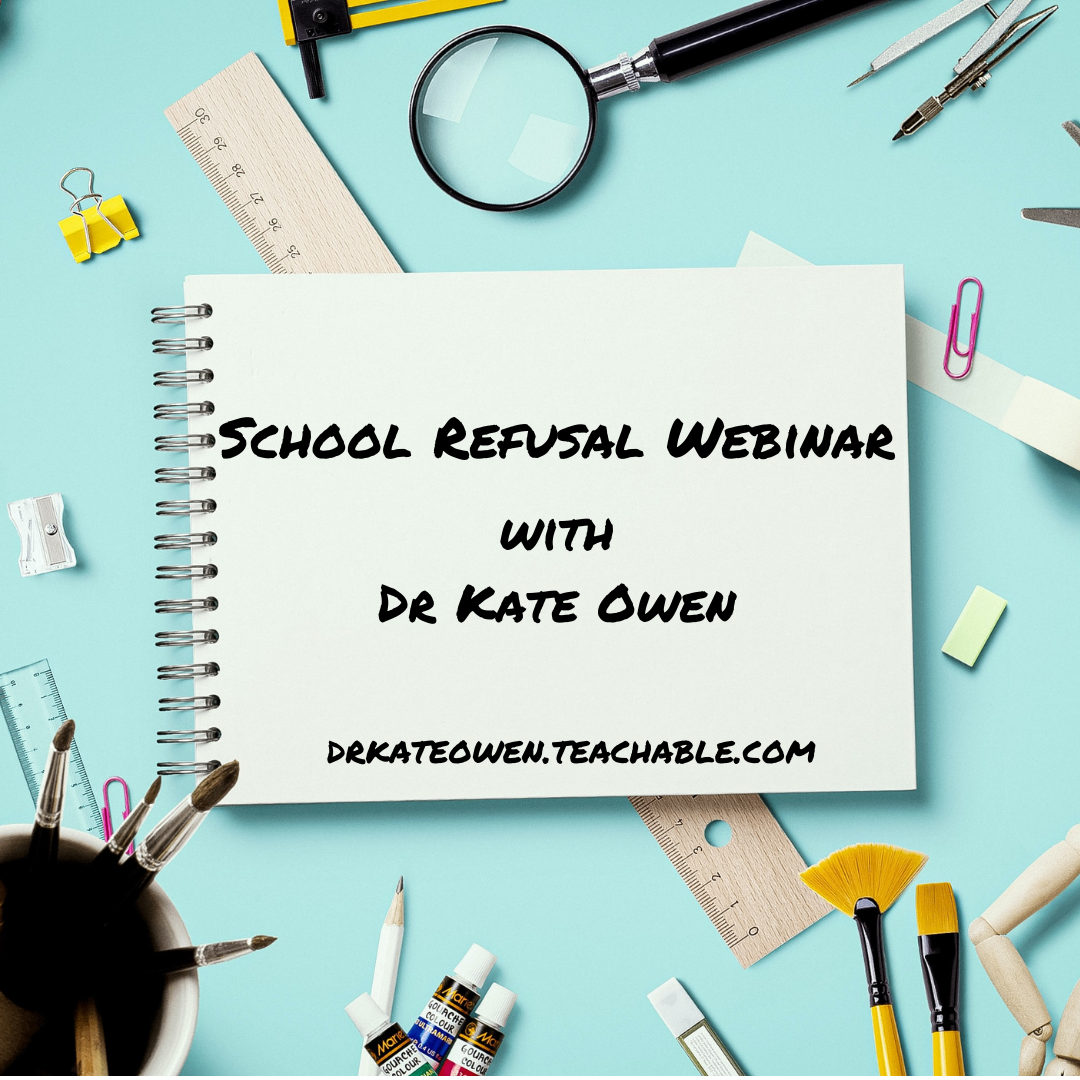 Webinar duration: 1 hour 30 minutes
In this webinar you will learn:
What is school refusal
What drives school refusal behaviour
Why early intervention is important
Strategies for adults to use
Strategies to use with your child and teenager
Strategies to teach your child and teen
Why connecting with school is important
Identifying resilience and amplifying what works
When to seek extra support
Where to seek extra support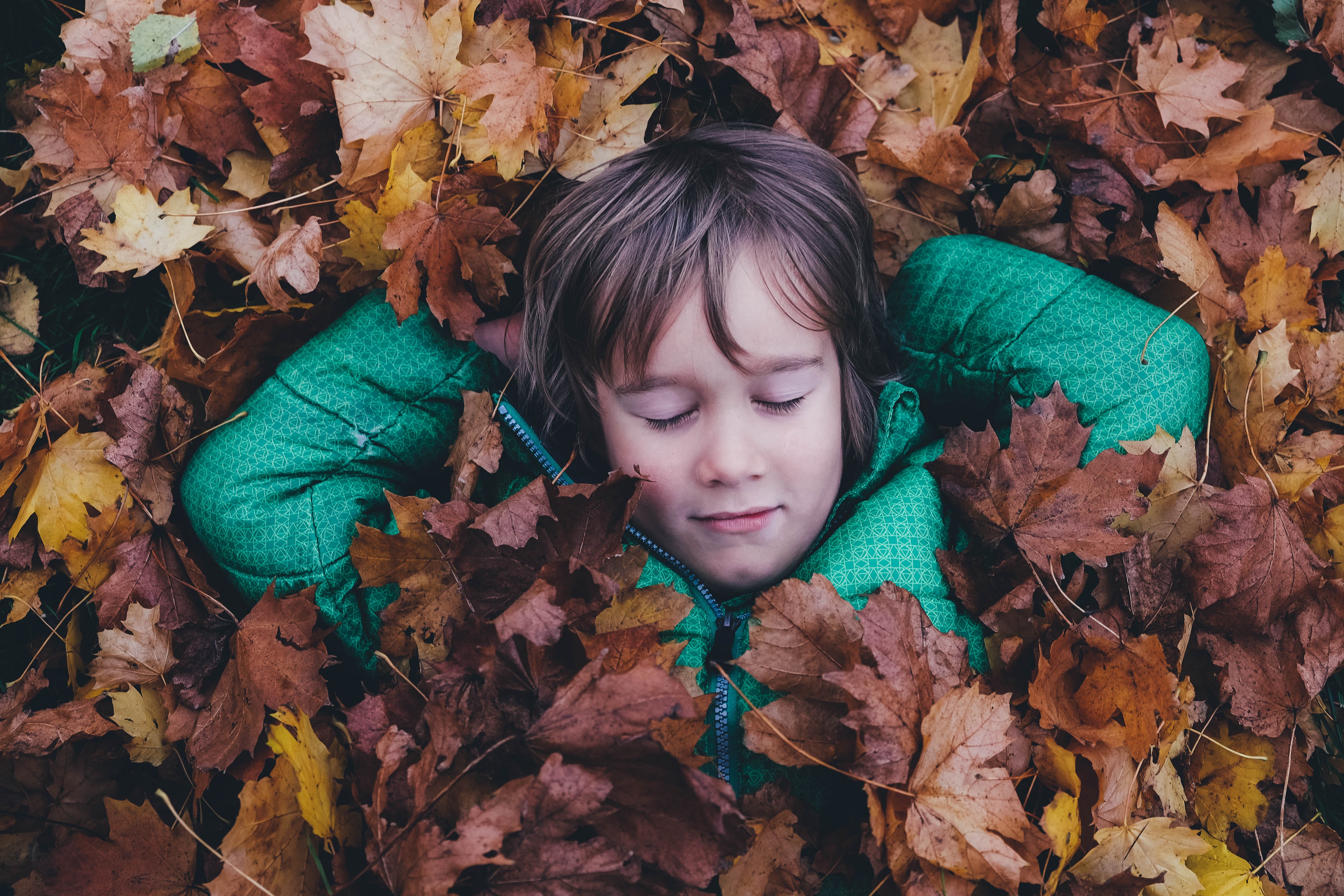 Creating Calm for Kids:
Recognising and Responding to Anxiety in 5 to 12 year olds
($190 Comprehensive Course)
This self-guided course is designed for all the significant adults in a child's life; including parents, carers, grandparents, teachers, sports coaches, and more, to help understand "What is Anxiety?" and learn practical strategies to help soothe the body and ease the mind. With a focus on strengthening resilience in young people, the course will empower you and your child to take control of worries and stress.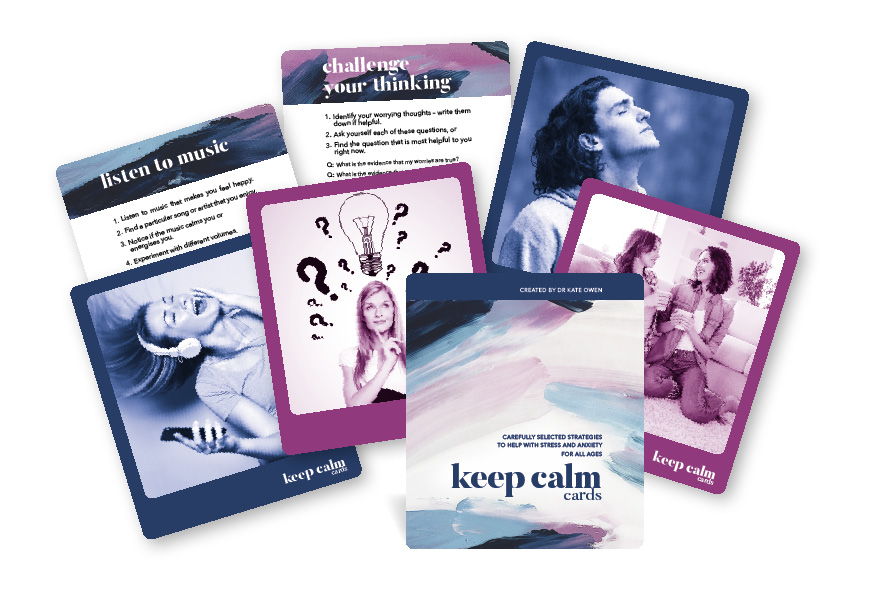 After working in the counselling and mental health field since 2002, I have come to appreciate that at the core of most challenges is a sense of anxiety. This can present as anxiety in a person, a relationship, a family, or another system such as work or school.
So I created the Keep Calm Cards as a resource to assist with soothing the body and easing the mind. Suitable for all ages, these cards are unique as they provide simple instructions and also explain the science behind why these techniques actually work.
$49.99 inc gst